Learning UX Design With The Interaction Design Foundation – Α Review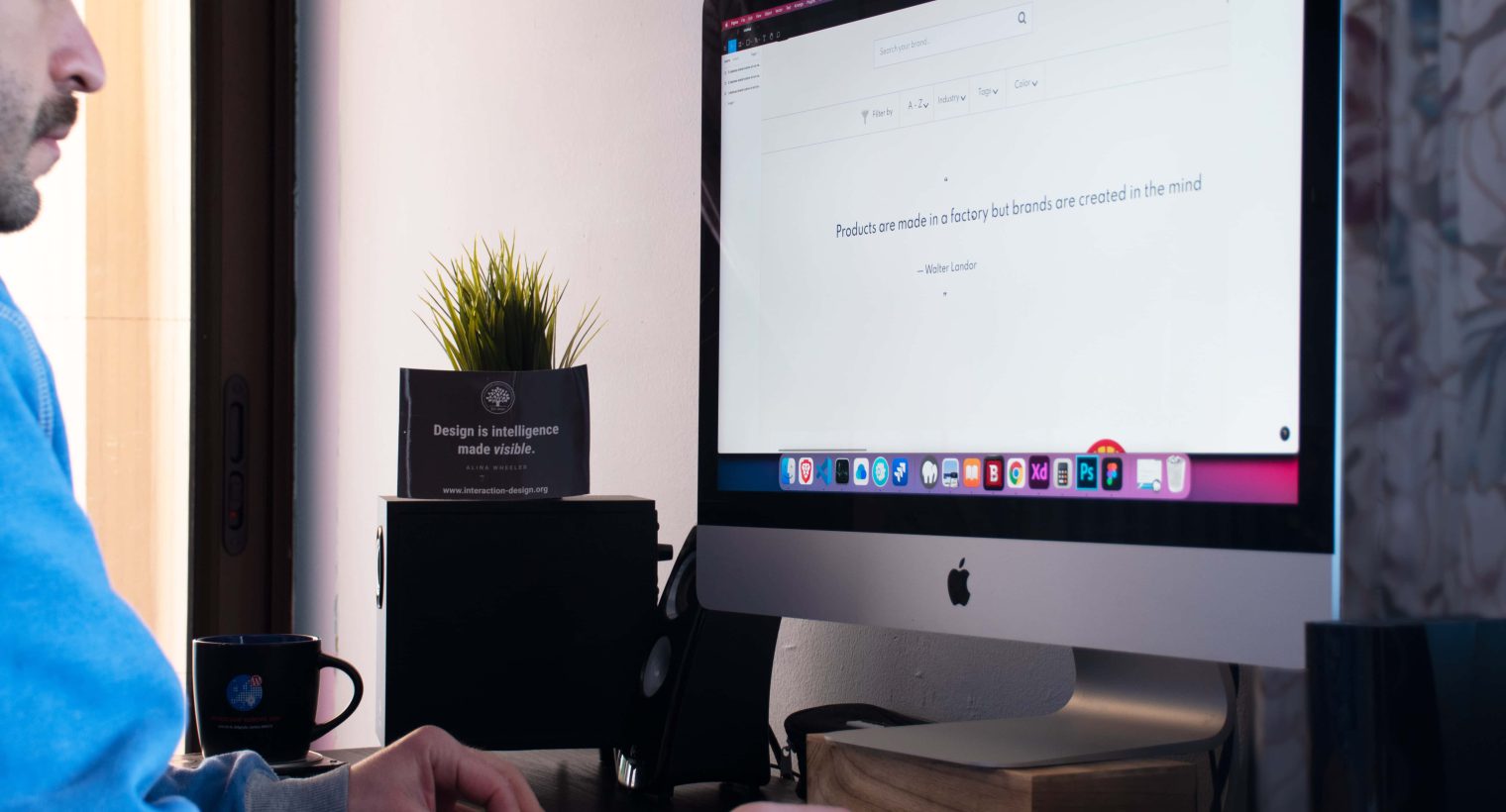 A Bit About Myself
To begin with, my motivation for UX design started during my studies, before 15 years. In the course Designing the User Interface, the instructor gave me the challenge to redesign the ATM Experience.
The goals were :
Find a way to reduce the number of steps taken to withdraw money from the Automated Teller Machine and on the other hand to decrease the total time spent at the machine.
In addition, to improving the total experience from the user perspective.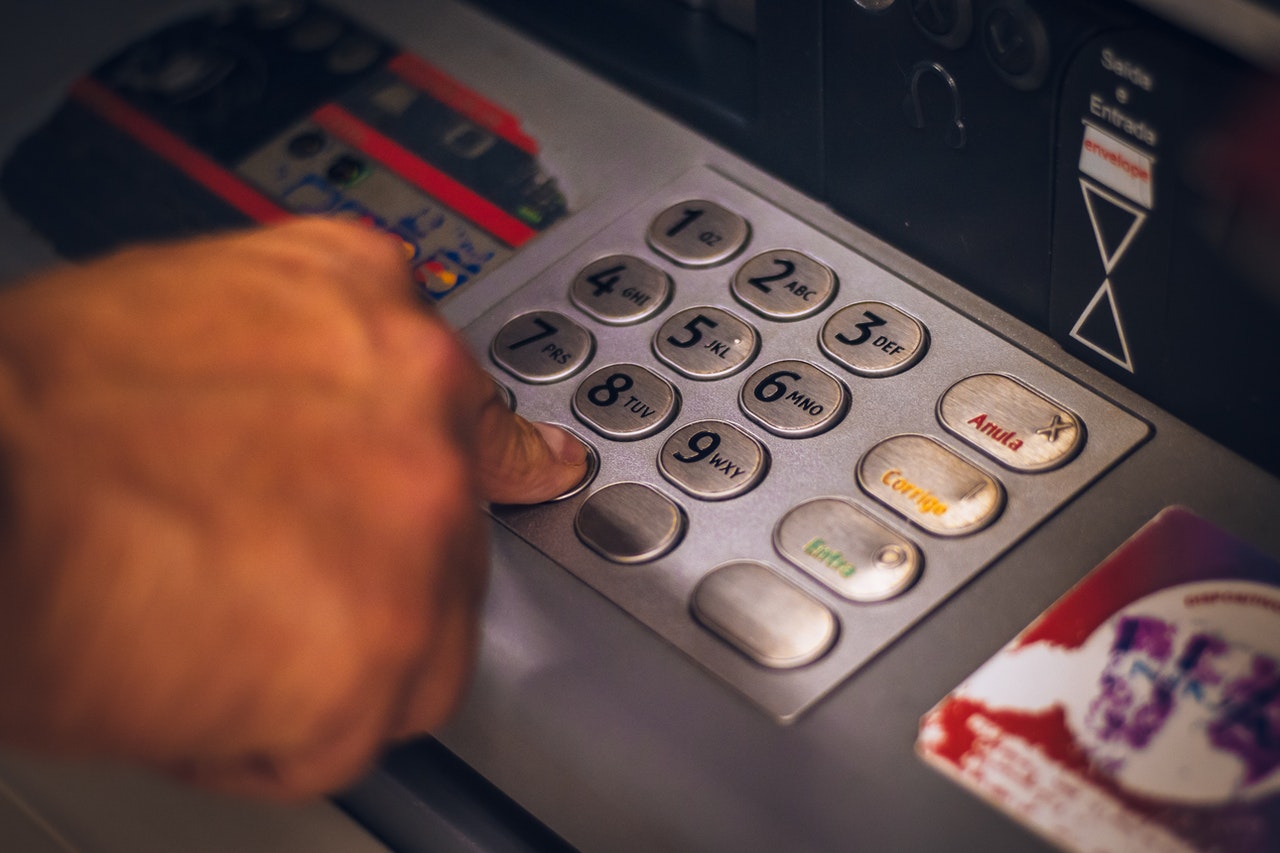 For the most part, each Bank in Greece had a different approach to ATM. Although the focus, methods, and granularity the primary key was to understand the user's needs. All in all, this whole process impressed me. In the first place, the success was to understand the user's needs. On the other hand, it was important to provide the user with a functional service and delightful user experience across all the touch points.
How It Started
I like the way that design works, finding new possibilities, as long as making things better. Problem-solving always makes me fun. I always remember myself to seek learning, through theory and at the same time in practice. In fact, as a self-taught web designer, most of my work was mostly in web and visual design. In spite of my knowledge, I decided to take it one step with confidence, so I moved forward with my carrier path to UX design.
Even if the problem solving was in my mind, I didn't have an expanded flow of methodologies to achieving in what productive way, this goal. I had a lot of practical experience, but on the other hand, with no formal and enlarged education in UX / UI design, and usability. First, I have done various investigations of online courses and I came across the Interaction Design Foundation (IxDF) in the end year of 2018.

Who Is Interaction Design Foundation?
The Interaction Design Foundation is an independent non-profit initiative established in 2002 in Denmark. Its purpose is to democratize knowledge of user experience, product design, as much as human-computer interaction.
The executive board of Interaction Design Foundation contains well know leaders like Don Norman, Daniel Rosenberg, and so on. Also, the foundation contains highly regarded professors and industry experts, continent managers, and country managers.
The main goal is to adjust the UX education with academic courses with attention to taught by highly experienced professors. In short, the foundation is an online community and on the other hand an online course provider.
My Journey To Learning
With attention to learn more, I signed up, and straightaway I started exploring the courses and the handbook of foundation. In fact, I was not disappointed. I immediately felt that the culture of IxDF was set to change the way that I learn UX design and in a fundamental way. In conclusion, it contains low-cost and high-quality courses.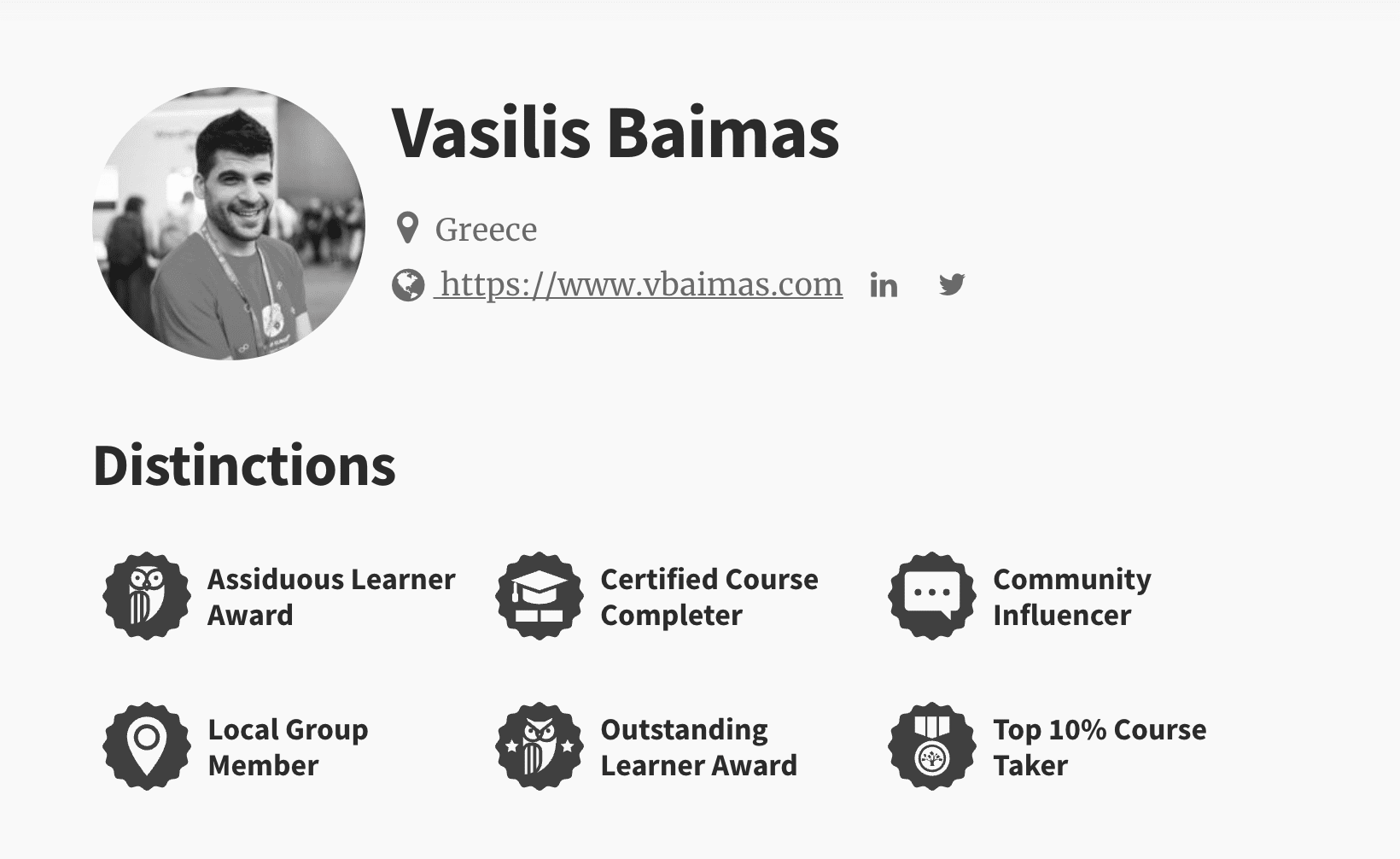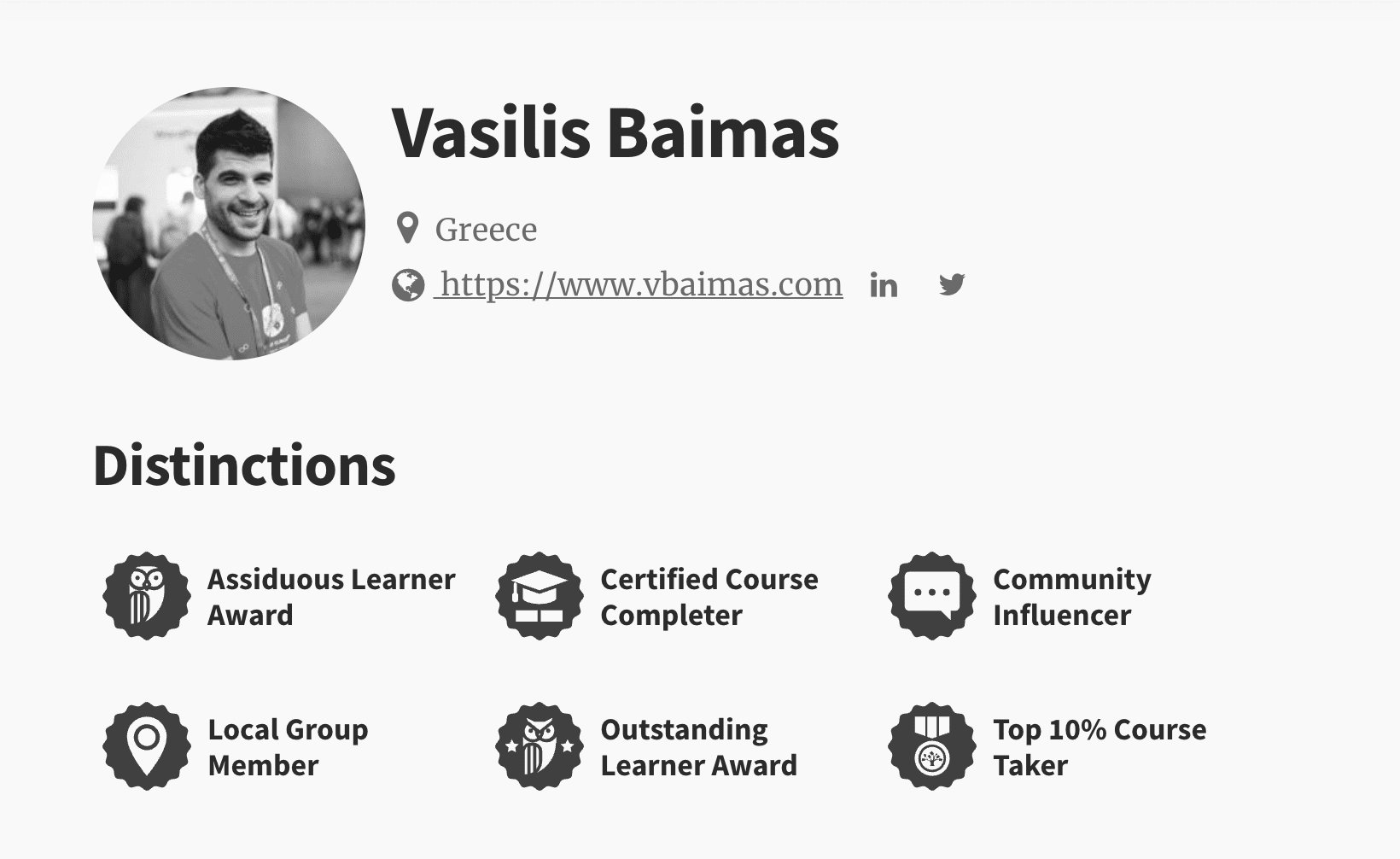 I decided to start my learning path as a UX Designer with the first course of Design Thinking: The Beginner's Guide. The whole course gave me a nice overview of Design Thinking from a different angle. Given these points, I learned how I can apply design thinking to my problems in order to generate innovative and user-centric solutions. Going through the life examples gave a great insight into the method.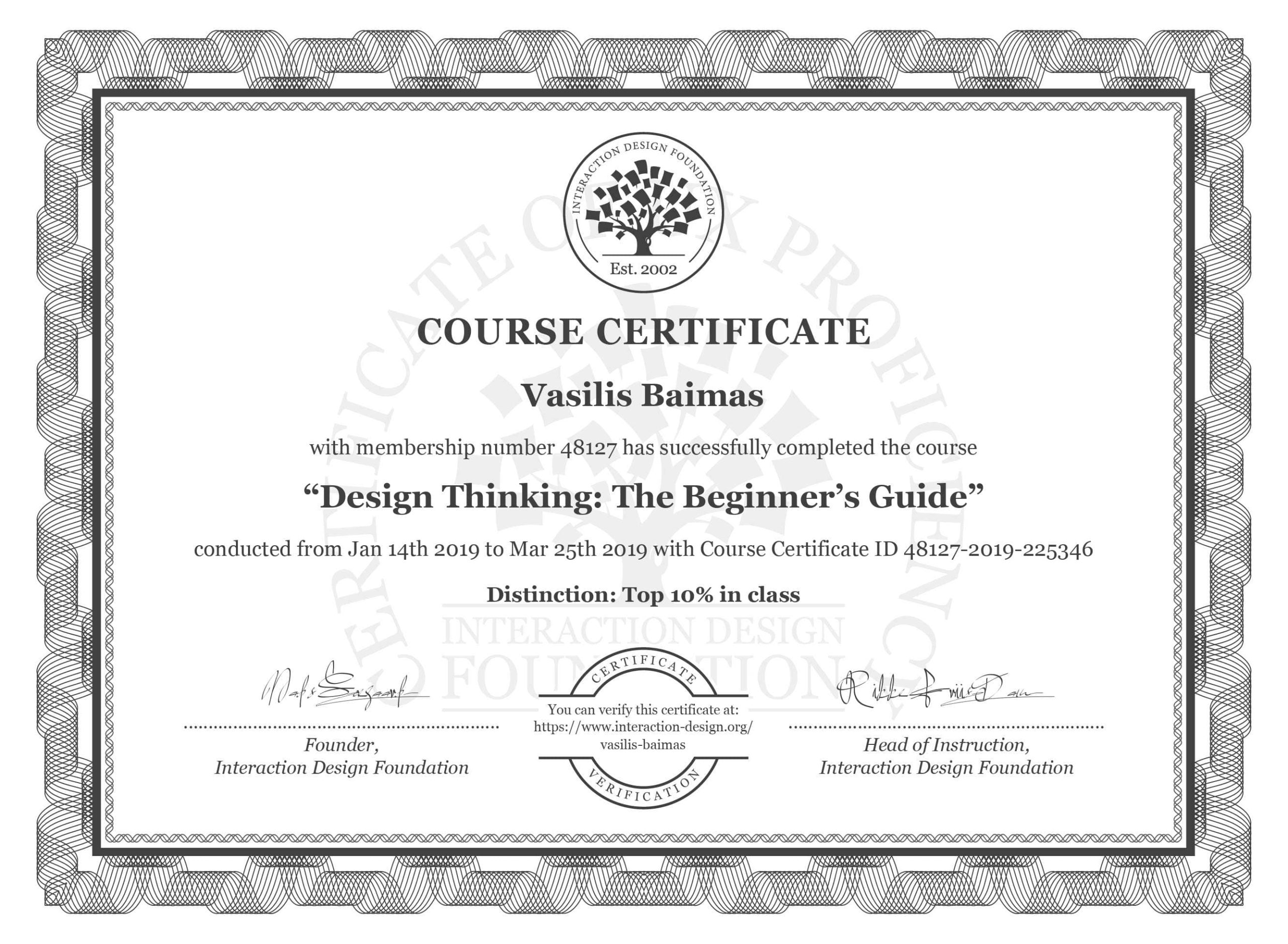 What I have learned
It had a great impact on the way I think and on the other hand to design. Also, a lot of UX fundamentals became clear. I include this learning path in my schedule almost every day and as a result of these 2 years, I have completed over 16 courses in UX and UI industry. Therefore, it's no matter how much time has passed, this learning journey continues to seduce me in the way I learn these industries. There is still a lot that I have to learn since the Interaction Design Foundation provides an innovative process and as a learner, I will get a valuable learning experience.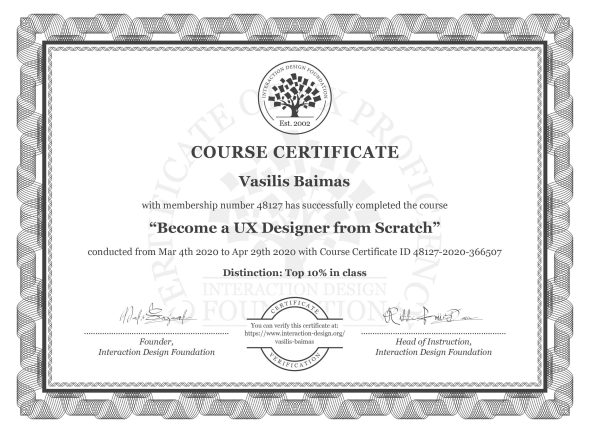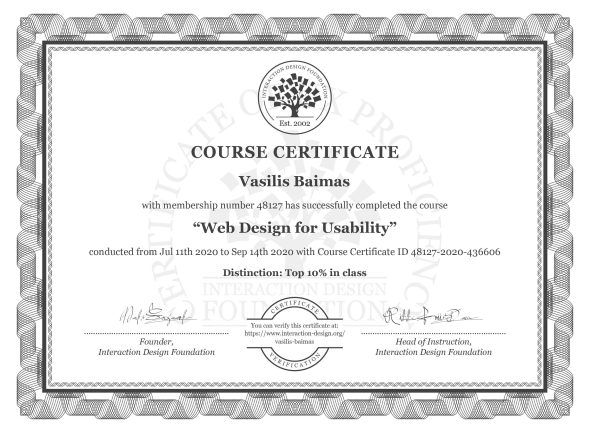 A Deep Overview of Interaction Desing Foundation
The Courses
The courses are range huge with interesting fields. On the positive side is, they follow a logical learning path. It includes courses from the industry of UX Design, Design Thinking, Human-Computer Interaction, User Research, UI Design. In addition UX Management, Accessibility, Gestalt Psychology, and Information Visualisation. In short, you can start your path as a UX designer to Product Manager, Executive, and so on.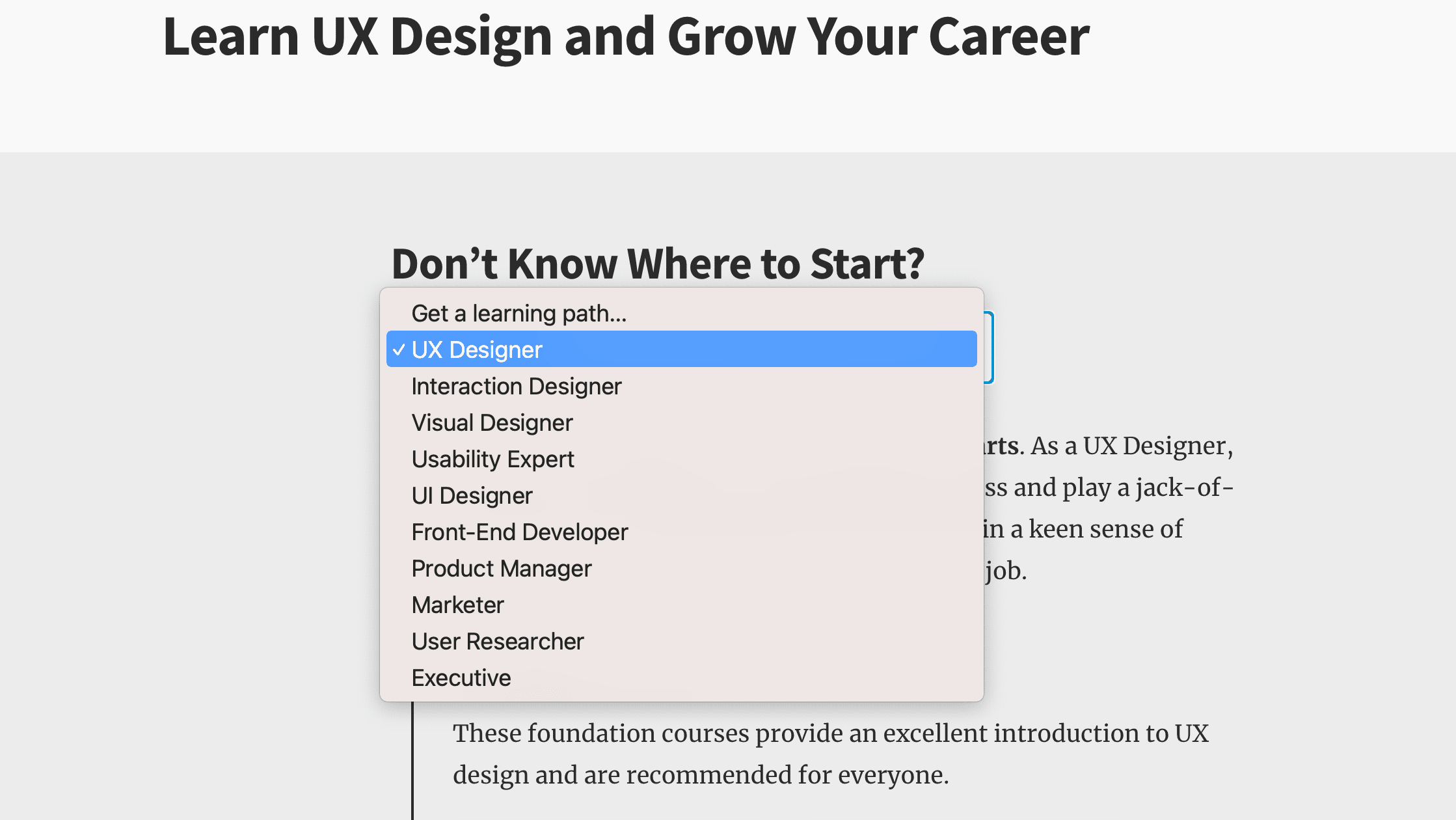 In the first place, the learning path that you choose depends on what you want to achieve. The courses cover the entire spectrum of UX design from beginner to intermediate and advance. This unique learning motivation and structure helps you to completely understand your path of the learning journey and on the other hand the progress through this path.
You can choose the course you want.
the book it, then you can get a calendar reminder for when it starts.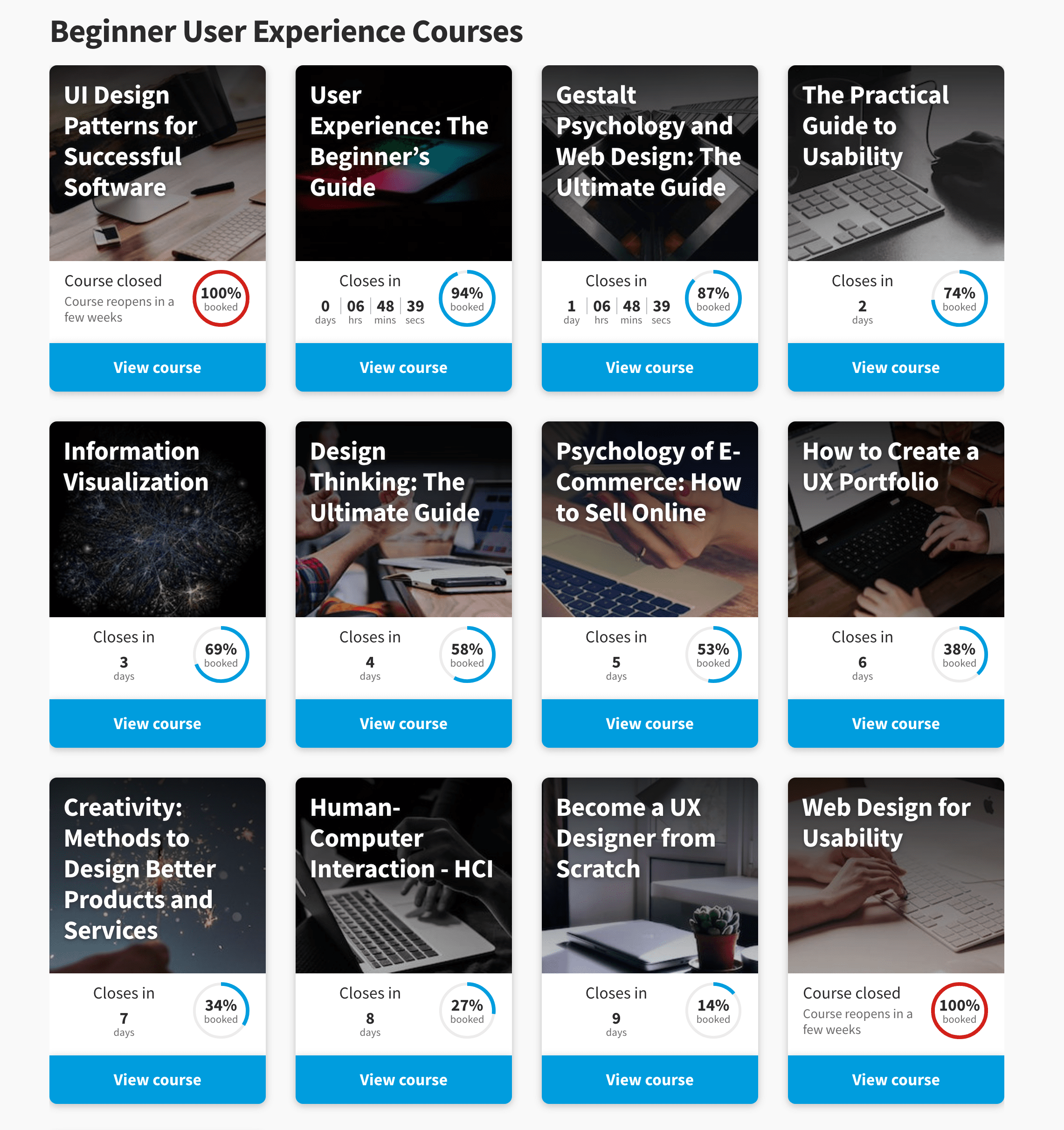 The structure of every course has a different approach and it's well structured. It contains a combination of text, images, videos, documents, ultimate kits, as well as web links. The course includes multiple-choice and open-ended questions. I am sure that you will find the open-ended questions very helpful because they including attitudes, feelings, and understanding of the subject. In view of this structure, it gives you the ability to better access the respondents' true feelings on an issue. Also, the course recognized certificate at the end of every course.
In order to earn a certificate of completion, you need to score at least 70% on all the questions in the course.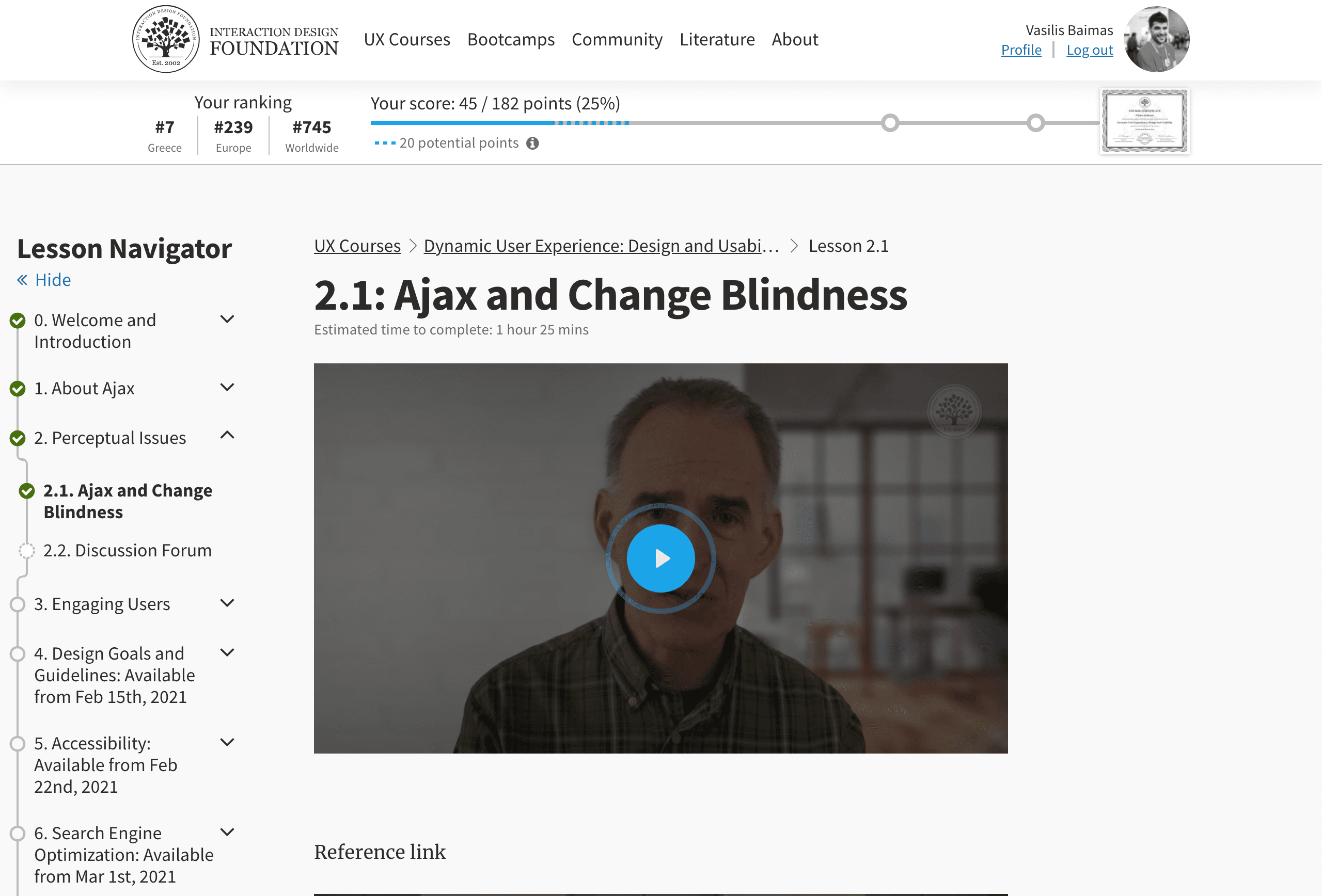 Get Engages in Discussions
Another key point is that every course contains a discussion board. As a result, this feature gives you the ability to interact with your peers in your class, and on the other hand, it promotes divergent thinking. This can happen because it considering many possible solutions instead of just one, is the key to a lively discussion board.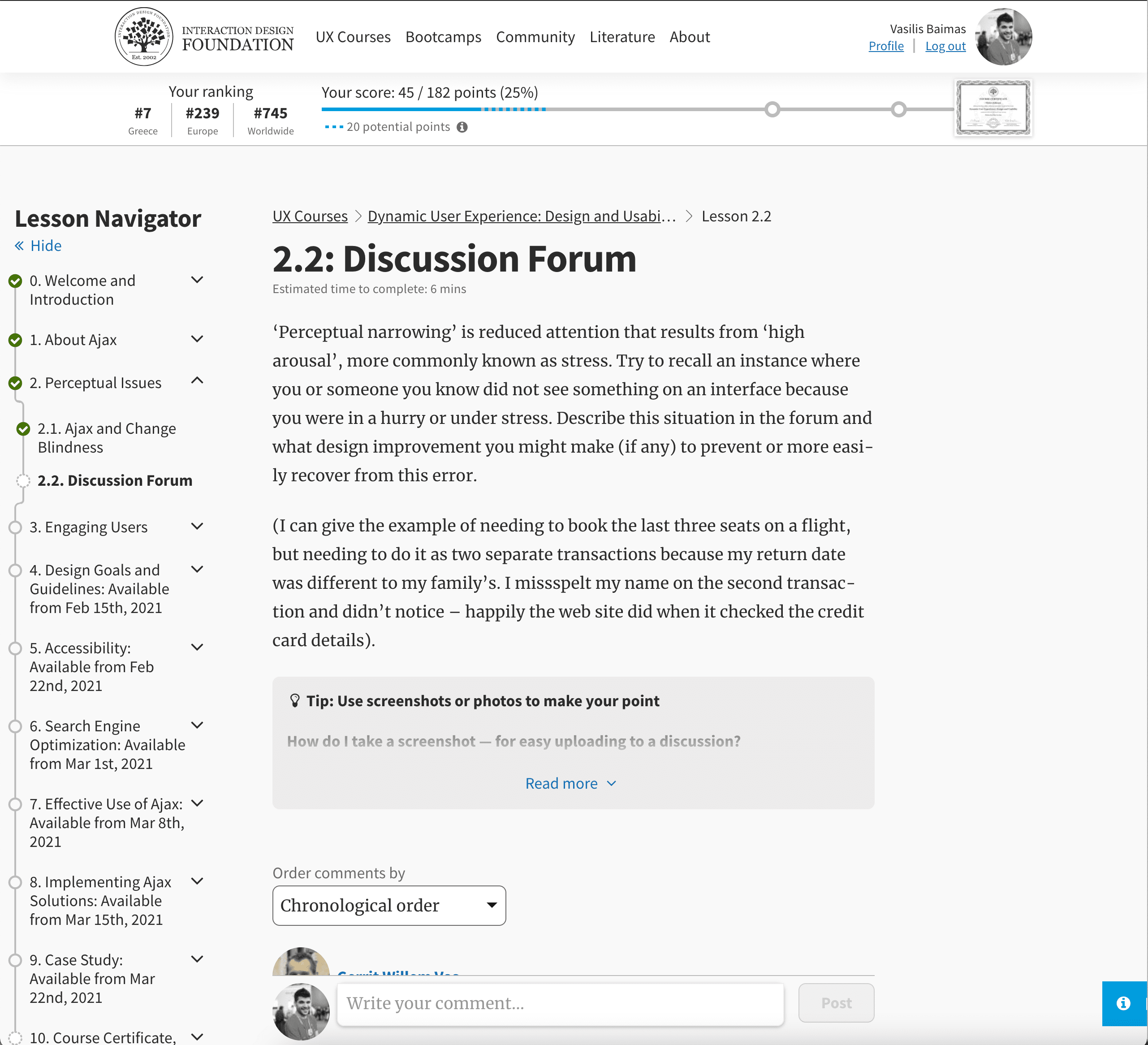 Learn From Your Peers
The section of the general discussions could help you to increase your collaboration. You can bring your (design) problem, feedback, as long as your ideas to the table and you can participate on every topic of discussion. In addition, if you need any advice, it's certain that someone else in the community can offer it.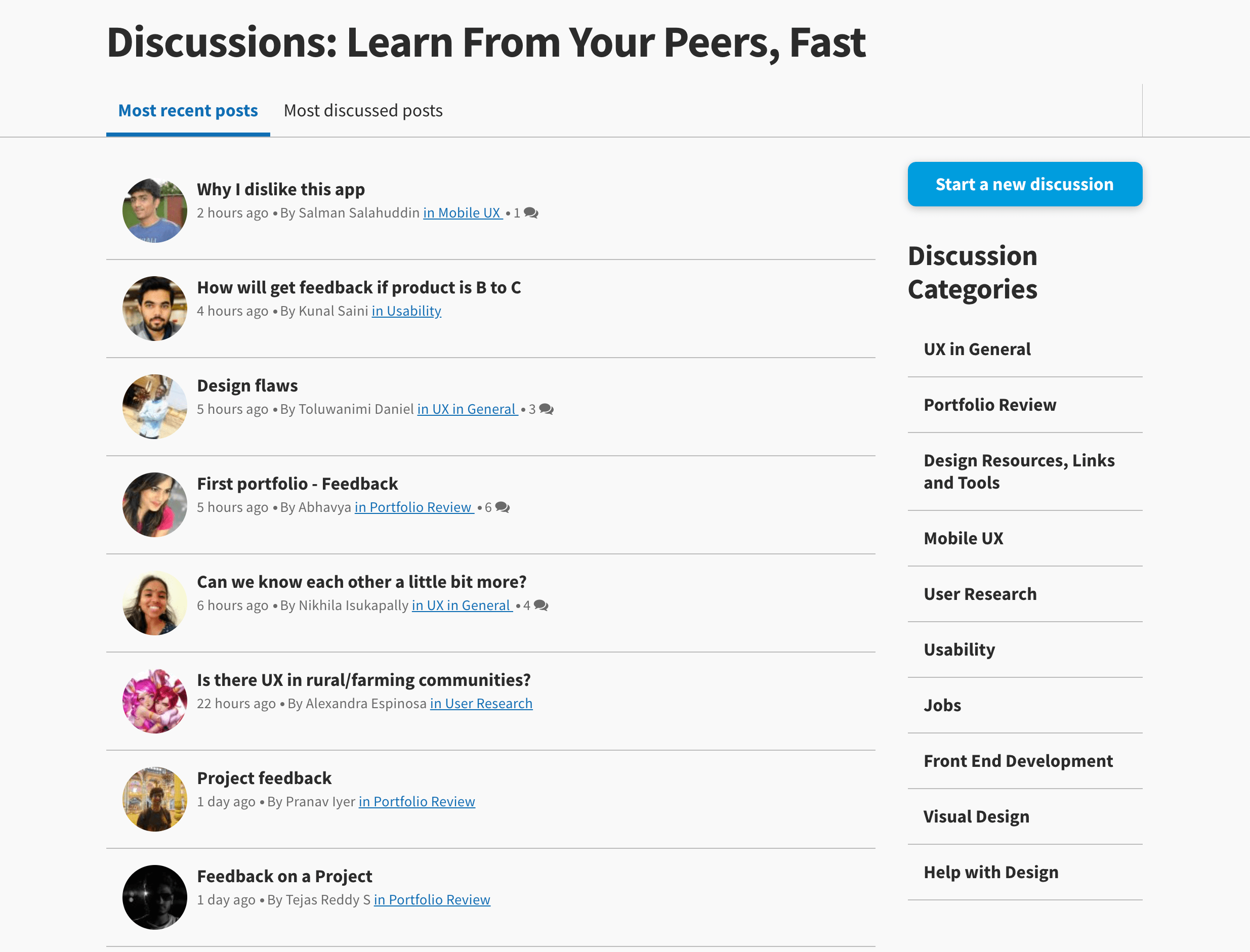 Library Of Open Source UX Design Resources
The IxDF puts in the first place the knowledge for every level of user. In the long run, provides a way to enhance the academic feel and the encyclopedia includes exclusive content, a glossary of key terms, and video interviews. In the center of this knowledge, it covers topics from UX, HCI, Usability, Design Thinking, UI, User Research, and Mobile UX.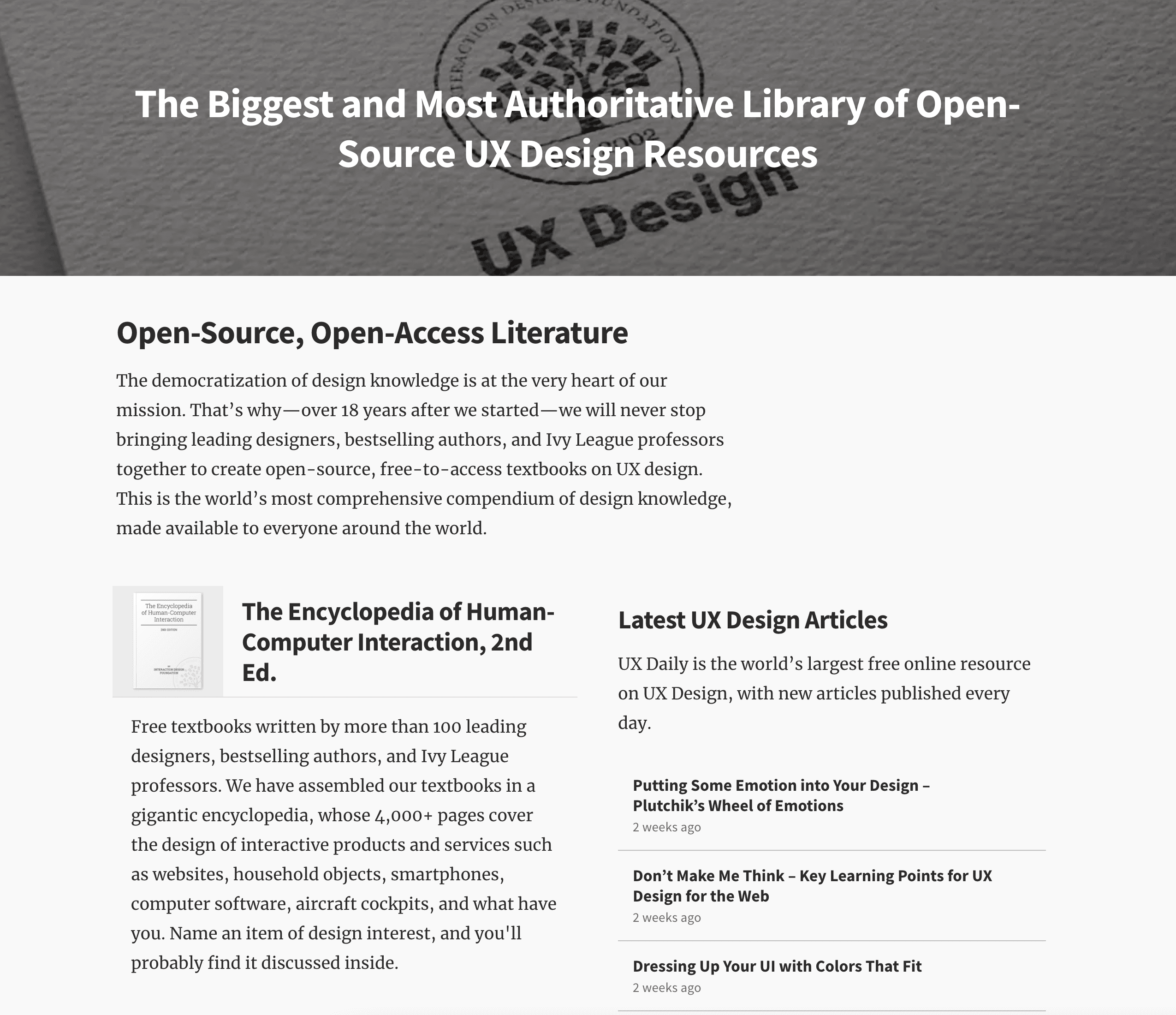 Join An IxDF Local Group
IxDF includes a lot of local groups from any kind of area. Mostly, for Greece, there are local groups based in Athens, Thessalonikini, and Larisa. This gives me a confidence boost when I need it most. As a member, I can have access to every local group – even if my area is far away. Overall, the community is very active.
As a member of a local group, in just 2 mins, you can create a meet-up and you can connect across with some other designers!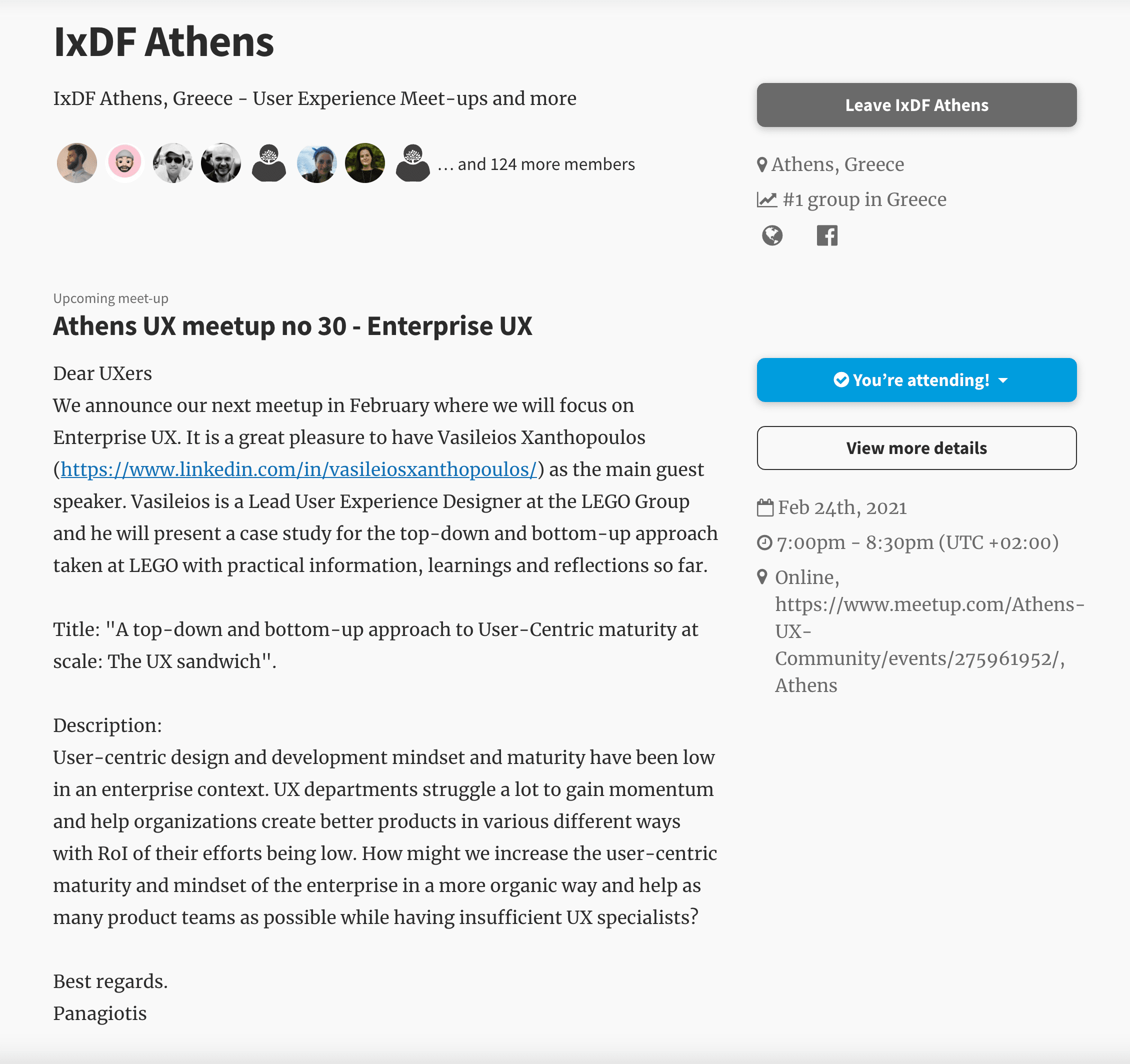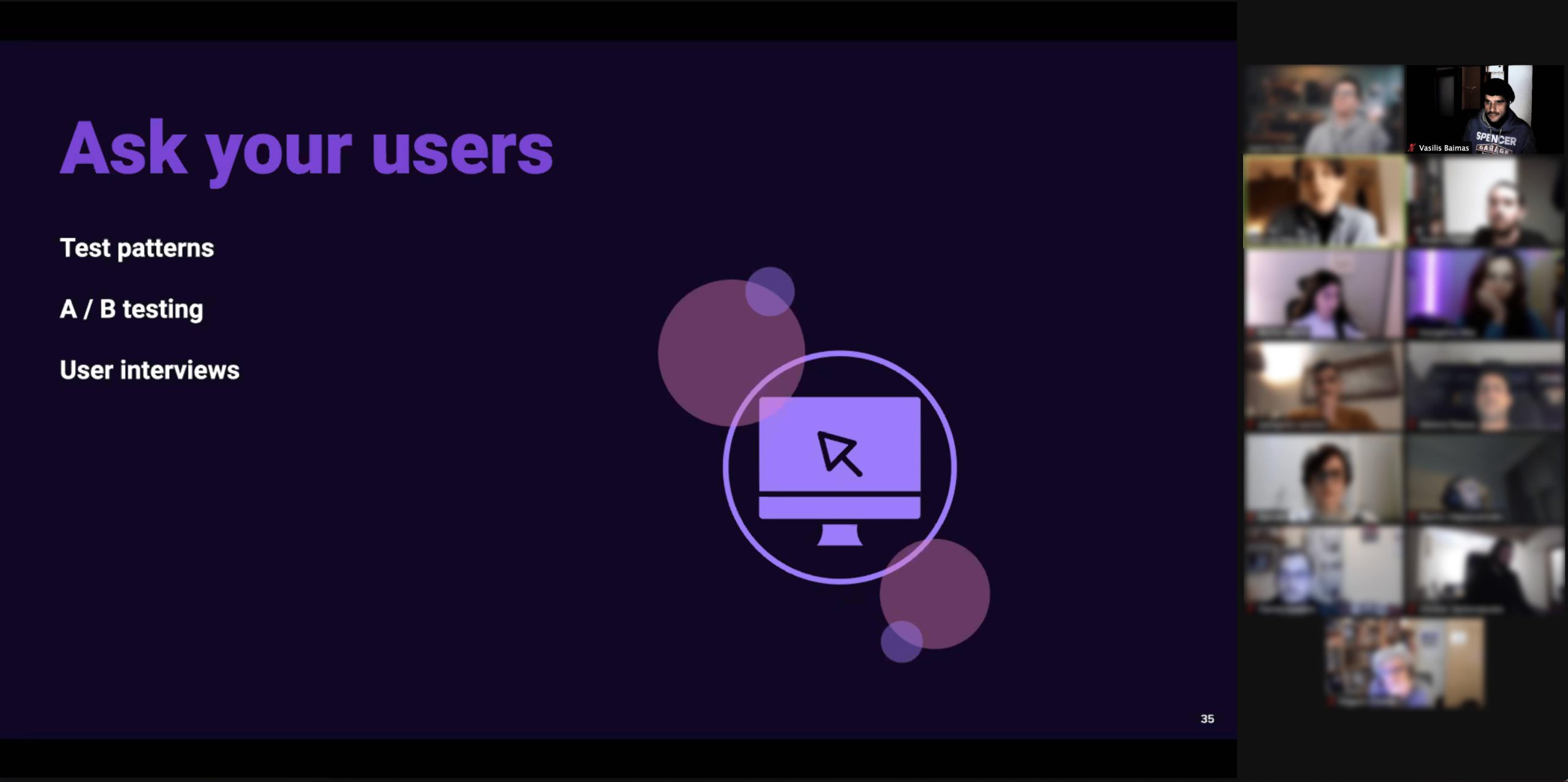 Community
As a member of IxDF, you can be a part of the worldwide community. This encourages you to be a part of a curated, intersectional community of designers and researchers. You can participate in conversations around the craft of leadership, the design, processes, workflows, career paths, and so on.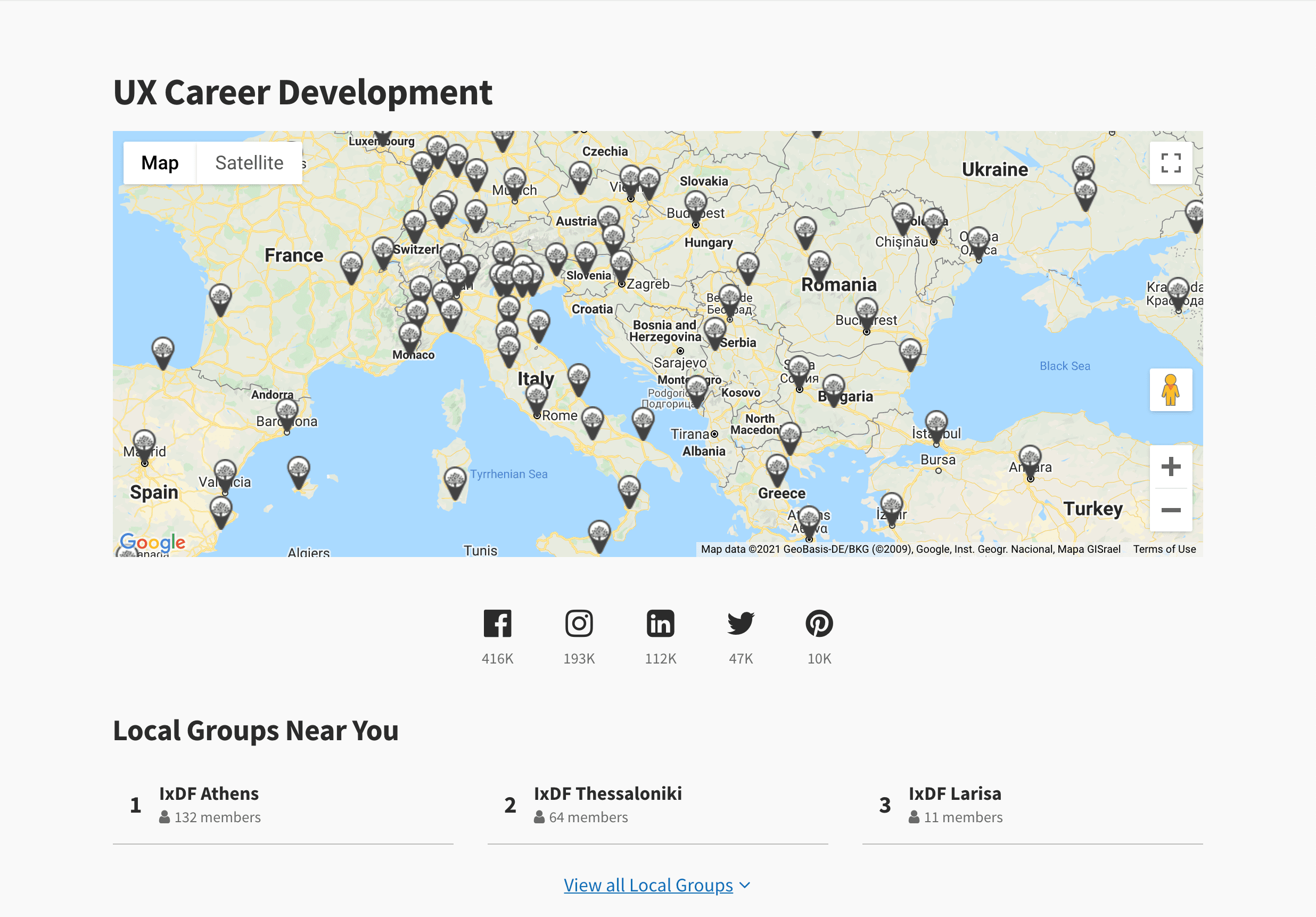 Attending In Webinar
Personally, I found the webinars just as important as any other educational or career event in my life. The foundation often organized a lot of webinars with relevant topics of the UX and UI industry. As a member, you can enjoy a special price for all Master Classes.
In that case, this popular learning environment enables you to start learning anywhere at any time. It is worth noting that if you register and do not manage to attend, then you are given the link and you can watch the webinar, anytime you want.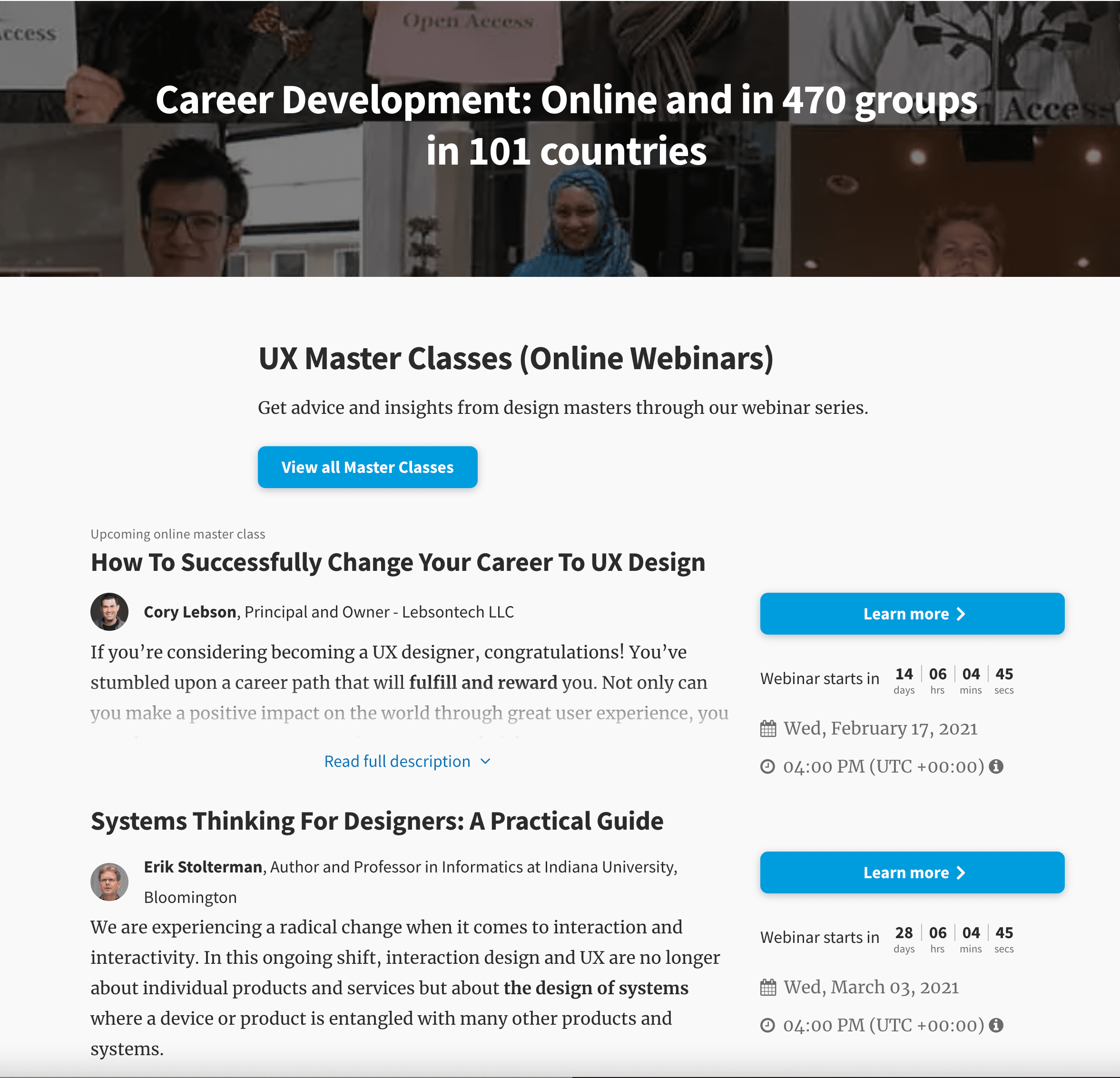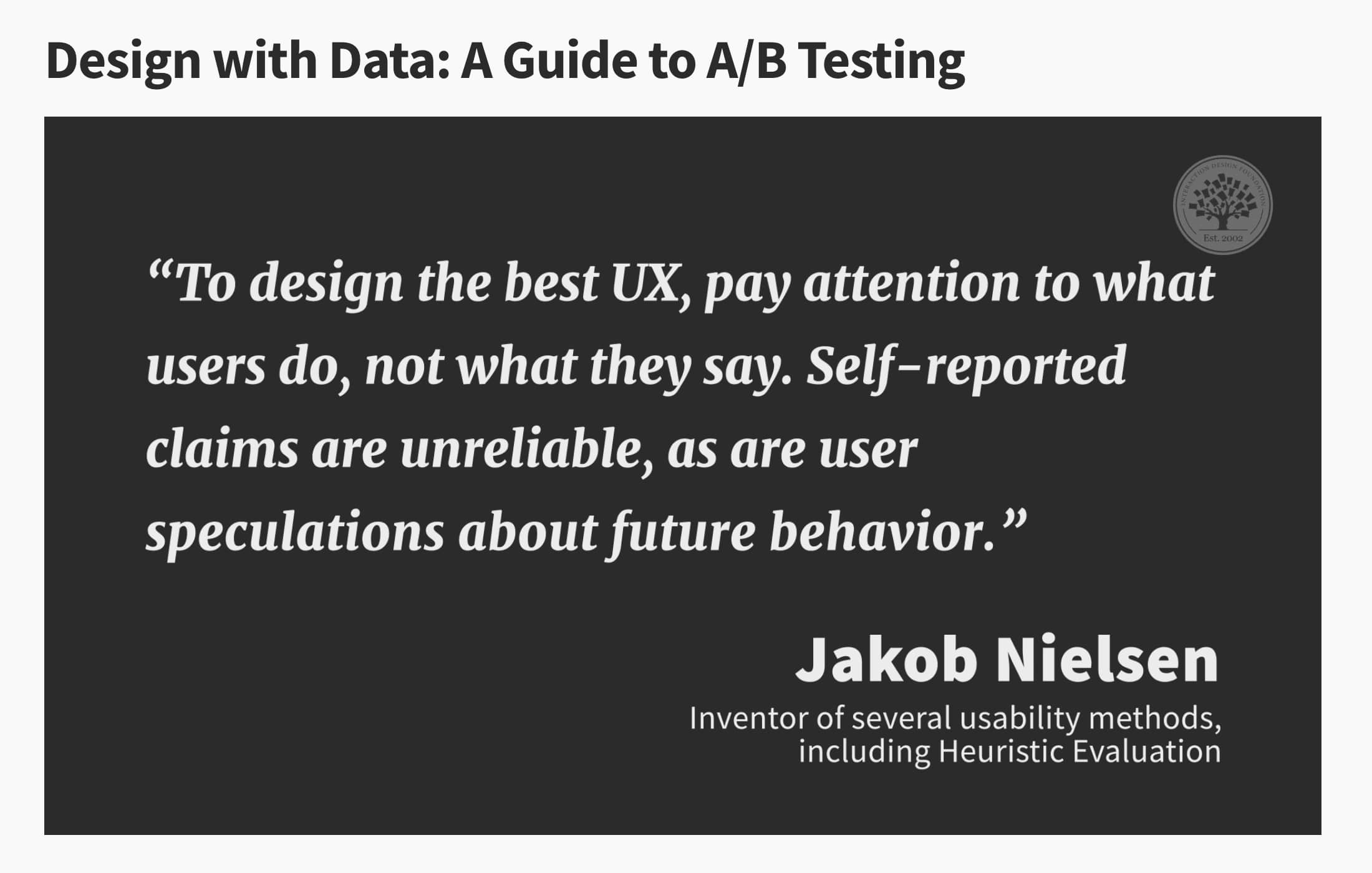 Get A New Job In UX Design
IxDF gives you the ability to have your personal design mentor. This option will help you to grow and be a better designer.
Disclaimer: Until now I have not applied to this program so I am not able to tell you more.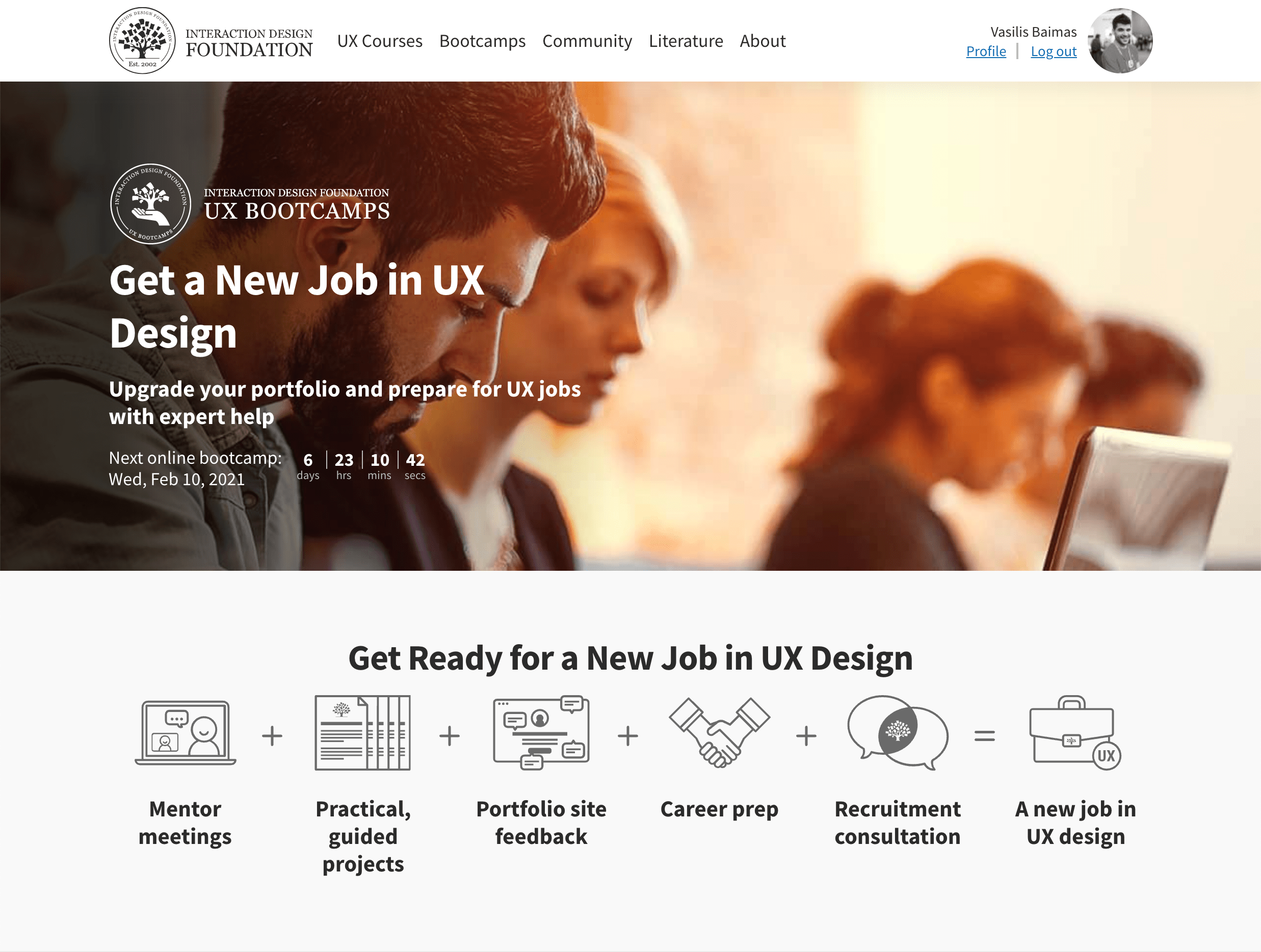 Recommended Courses
You will learn :
How to apply design thinking to your problems. How you can generate innovative and user-centric solutions.
Employ various methods from ethnographic and analysis methods, interviews to focus groups, and surveys.
How can use a prototype easily and efficiently to reduce your risks.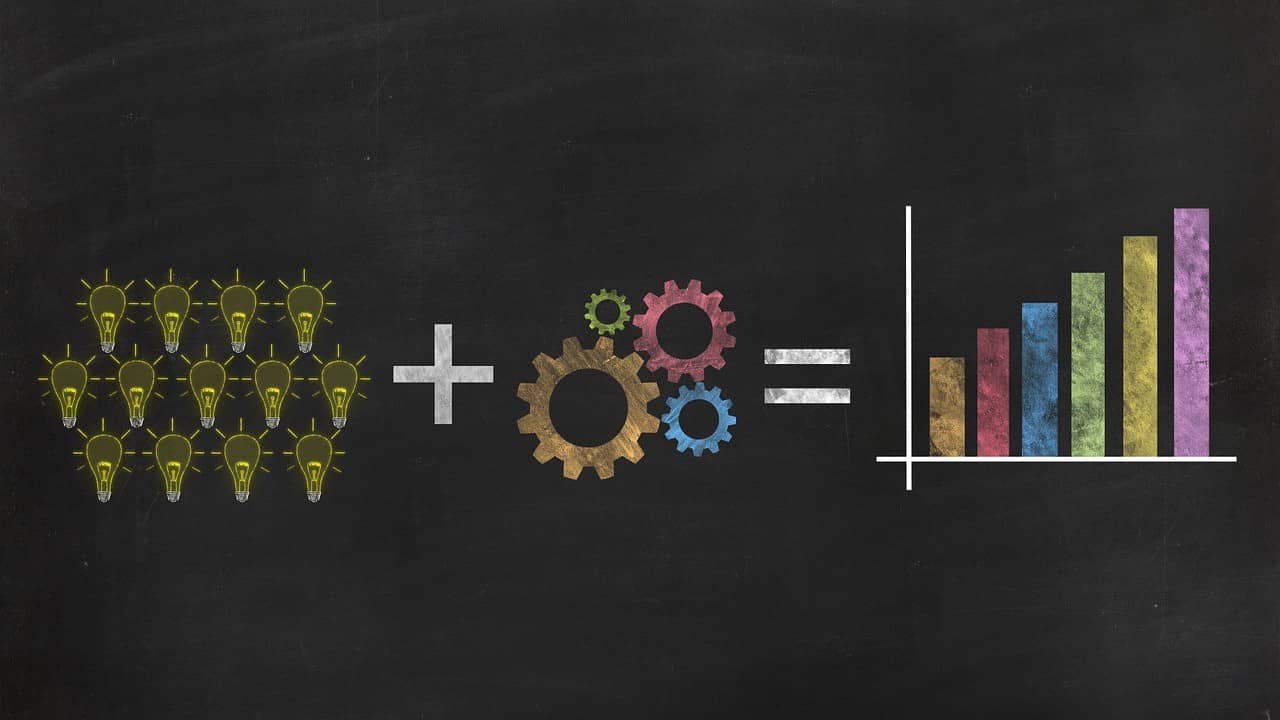 You will learn :
How you can go through the five stages of design thinking: empathize, define, ideate, prototype, and test.
How to start building your UX portfolio.
Give you the confidence to work with clients as a UX consultant.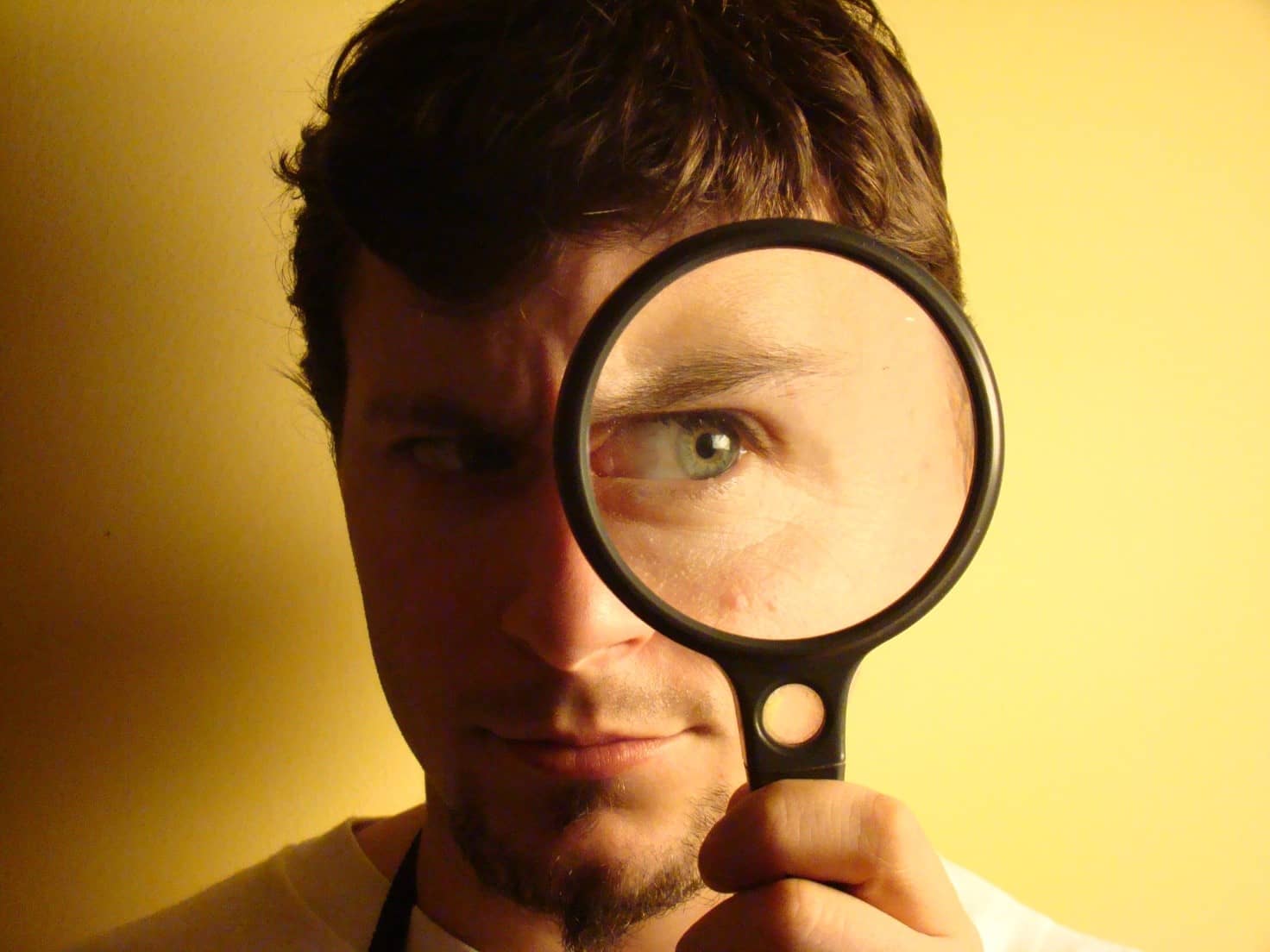 You will learn :
How you can plan user research projects.
How to conduct user interviews and how to run usability tests.
Gives you the sense and applies qualitative analysis to improve designs.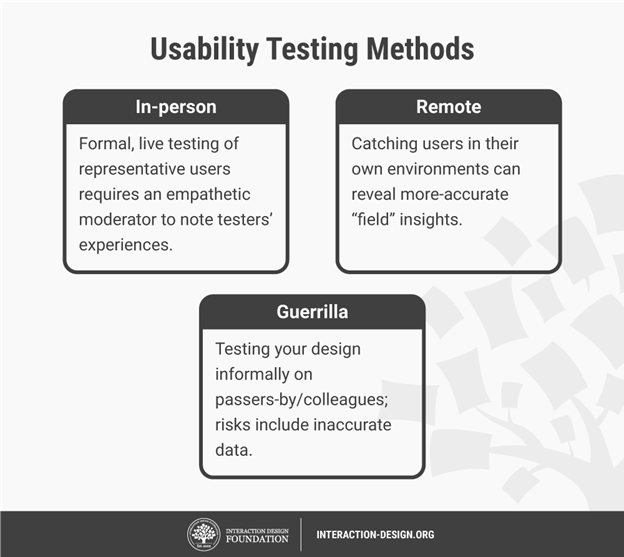 You will learn :
How to conduct effective usability testing
Plan, run, analyze and report usability tests.
How to avoid the most common mistakes.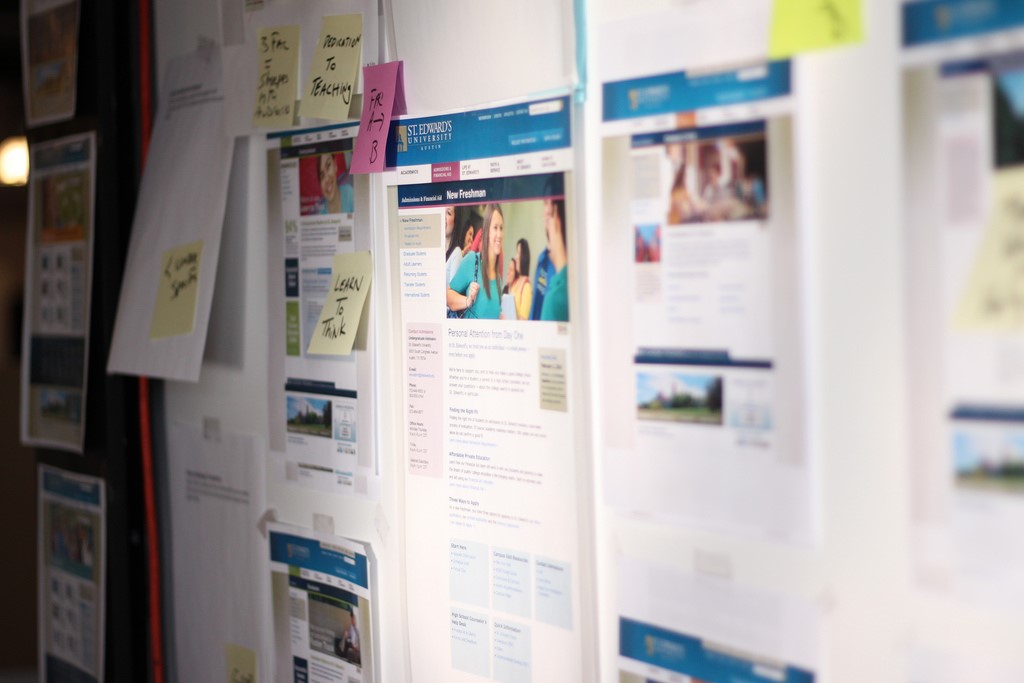 You will learn :
Using the right design patterns for the right product and interaction.
How to speed up your design process with UI design patterns.
How to enhance the UX of a UI.
You will learn :
The best practices to support and manage a UX designer and wider UX team.
UX management best practices, from case studies and interviews with experts.
How to improve the ROI of your design work.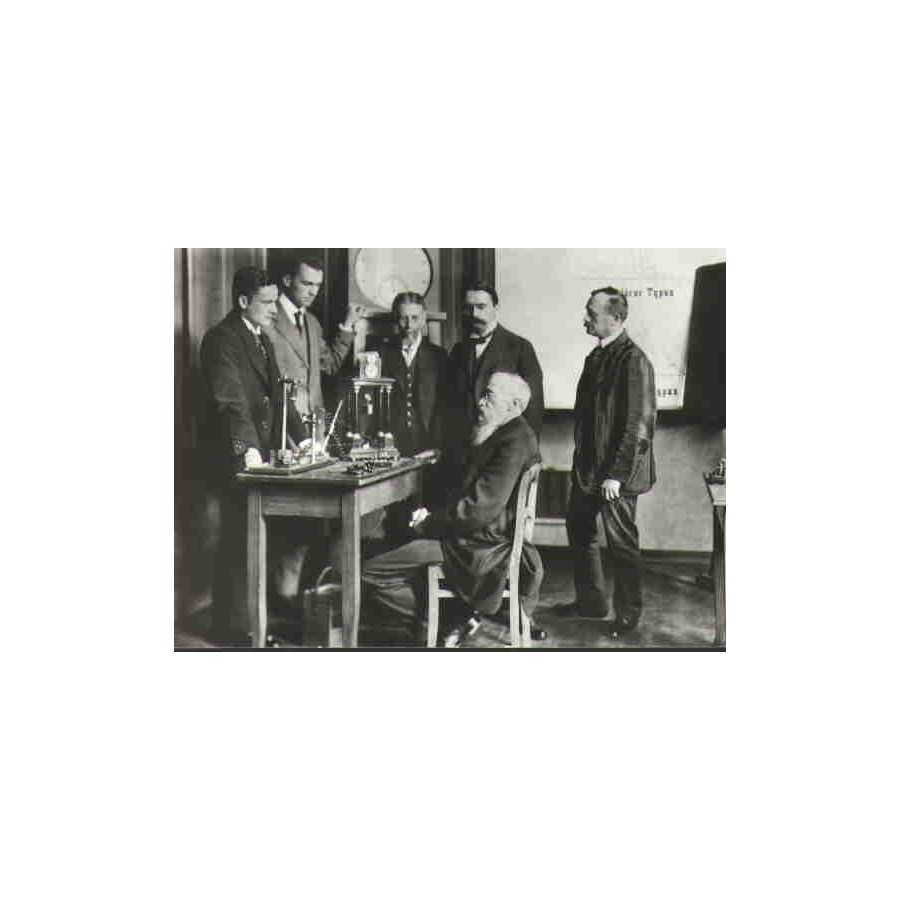 Gestalt (guh-shtaalt) in German roughly translates to "pattern."
You will learn :
How to use Gestalt, laws in the industry of design.
How to organize the information in interfaces so that designs feel cohesive.
The fundamentals of spacing, proximity, and grouping elements in your design.
Your Membership Access
As a member, you have access to almost 32 free certificated UX courses. Keep in your mind that the courses are accredited by LinkedIn.
It's given you the opportunity to establish connections with other UX professionals, product managers, and designers within their large community.
UX daily. One of the best word's online UX design resource
Updates regarding the most important events from the UX industry, across the world.
In any event, and local groups, that spread across the world.
You are already signed up? Some Tips
In the first place, set your personal goals.
Regardless of your experience and knowledge, it's highly recommended to follow the learning path of the course.
Equally important is to include your learning, into your daily schedule.
Schedule your learning time. There is no specific reason to point out 1 or 2 hours of seasons. Feel comfortable.
Adjust the course to your schedule when you think that you have a clear mind. It's important to keep your focus.
Due to your learning, stay active in discussions. Please, do not hesitate to open a new thread and join a discussion.
The first thing to remember is that knowledge never stops. Keep deepening your knowledge, even if you think you know enough.
In Conclusion
To put it another way, let's say that you want to learn more about interaction design. The easiest solution is to make deep research through the internet. I am sure, that you will find articles and scattered information related to your inquiry. Anything that complicates it is likely to hinder your learning path.
Interaction Design Foundation gives you the ability to have all the industry and information that is related to the interaction design, in one place. On the other hand, it gives you the key to enhance your motivation. If you are a self-motivated person with a desire to learn then you will do well with these courses.
The Interaction Design Foundation is more than a learning platform. It's a great resource of information, inspiration, and opinions related to the UX and UI industry. It's a community with is a treasure trove of knowledge. It will help you to empathize in thinking and as a result, you will enhance your skills to be a better designer.