Giving Back to Our Community
Going the extra mile to give back
Giving back to the community has always been a core value of mine. As a child, my parents instilled in me the importance of helping others, and I have carried this lesson with me throughout my life. In fact, I have found that volunteering with various organizations, such as environmental cleanup projects, has been one of the most fulfilling experiences of my life.
Not only does giving back help those in need, it also provides us with a sense of purpose and fulfillment. By making a difference in someone else's life, we are able to find deeper meaning and satisfaction in our own.
As I look to the future, I am committed to continuing my efforts to give back to the community in new and creative ways. Whether it is through volunteering, fundraising, or mentoring, I am eager to explore new avenues for making a positive impact in the world.
Ultimately, my goal is to inspire others to give back and to create a better world for future generations. I believe that by working together and giving of ourselves, we can make a real difference in the lives of those around us and create a brighter future for all.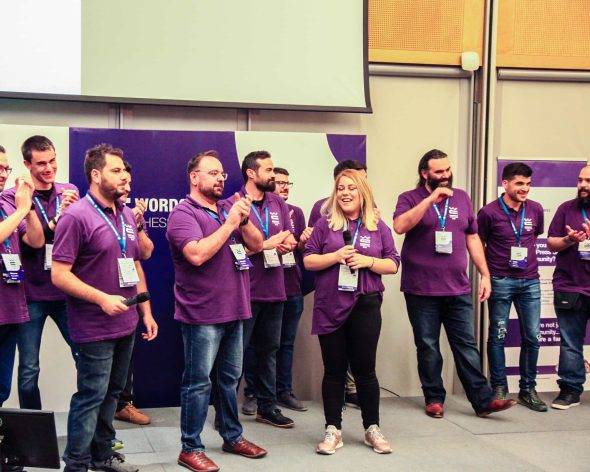 Here Are Some Ways in Which I Give Back to the Community.
Fosscomm Athens
Speaker. "WordPress theme building from Scratch"
WordCamp Greece, Athens
I served as an organizer and member of the design team for the first WordCamp Athens in Greece.
WordCamp Greece, Olympus
Speaker."Extending your WordPress Project with Custom Post Types"
---
WordCamp Greece, Athens
I served as an organizer and member of the design team, collaborating closely with the marketing team and four other designers.
WordCamp Greece, Thessaloniki
I served as an organizer and member of the design team for the inaugural WordCamp in Thessaloniki. During my work, I collaborated closely with the marketing team, four other members of the design team, and an assistant from the digital agency.
---
Launch Free WordPress Blogging Theme
I worked with developers to create a free WordPress blogging theme.
---
WordCamp Europe, Servia (Belegrade)
Volunteer and Contributor. Through my contribution, I had the opportunity to connect with new people and engage in conversations about user experience, with a focus on the finer details of a user interface.
WordCamp Europe, Berlin
I served as an organizer and member of a 6-person design team for WordCamp Europe in Berlin. During my time, I closely worked with various teams, including marketing and content, to achieve our goals. As a team, we successfully met our objectives.
---
WordCamp Europe, Berlin
I served as the organizer and team leader for WordCamp Athens in 2019. During this role, I led a team of four members..
WordCamp Greece Online
I had the honor of being a speaker for the presentation "Design for the Art of Communication".
---
Mentoring, Training
I began mentoring over twelve inexperienced designers to assist them in enhancing their skills and workflow.
---
Consultant Designer and Ambassador. Non-Profit, Pay It Forward / Canada
I began contributing by providing consulting services to non-profit organizations, helping them improve their workflows. Additionally, I serve as a mentor to up-and-coming designers in the community.
Startup Mentor, Greece
I am a startup mentor who volunteers to provide entrepreneurs with guidance, support, and valuable insights to help them navigate the challenges of starting and growing a business. I specialize in improving the user and customer experience of their product or service."Startup Mentors".
My Services
All of the services I provide are intended to enhance the user experience, making it more human-centered.
UX Strategy
To create user-centered designs, it's important to have a clear vision. I can assist you in establishing and aligning your business vision to meet the needs of your users.
Research & Testing
I don't assume to know what your users think, or how exactly they behave. I use research methods to get to the bottom of your users' needs, motivations, and behaviors.
Mentoring & Coaching
To gain a deeper understanding of an experience, it's important to keep learning. As your assistant, I can help you explore various possibilities and provide options based on your experience and goals.
Information & IxD
In the realm of business, every interaction presents an opportunity. I strive to adhere to industry best practices when it comes to developing products that empower users to achieve their goals in the most efficient manner possible.
Before Leaving, Make Sure To Navigate to…